Tributes to our apprentice, Artem Bondarenko
Published Date:
20/10/2020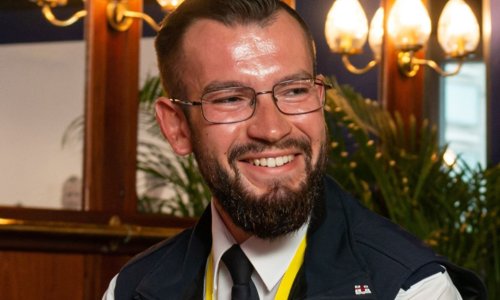 The Thames Skills Academy is very sad to report the tragic death of Artem Bondarenko, aged 23, who was a Master at City Cruises and one of our first Boatmaster Apprentices. Artem was one of 10 to start the TSA Boatmaster Apprenticeships and one of the first to gain his Boatmaster Licence. He was also recently bound by the Hall.
Artem started as a mate at City Cruises based in Poole and on moving to London joined the TSA apprenticeship to be a Boatmaster in October 2017; completed it in March 2019 and passed his BML in June 2019.
He took full advantage of the opportunities on offer through the apprenticeship. For example he sailed from Southampton to Plymouth over three days to gain Masters experience.
He was a passionate advocate of the TSA apprenticeship and the quality of the training he received. He spoke at the Thames Waterways Forum and at the Careers on the Thames event last year, citing tales of his fascinating work at City Cruises and encouraging other young people to join the maritime sector.
The CEO of the Thames Skills Academy, Katherine Riggs, said: "Artem will be sadly missed by us all. He epitomised the essence of what our apprenticeships are all about – young people learning skills and growing in confidence and knowledge on their own unique journey."
Mathew Beckwith, Operations Director, City Cruises, said: "Artem was an inspiration to others, a motivational speaker about his journey and a dedicated individual that represented City Cruises to the highest standard. We will all miss him and are deeply saddened to lose a friend and colleague."
The TSA plans to hold a graduation ceremony for all of the trainees who have passed the apprenticeship when this is permitted and one of the annual awards at this event will be in honour of Artem Bondarenko.
Return to Previous Page