The Prime Minister talks to the TSA
Published Date:
19/09/2019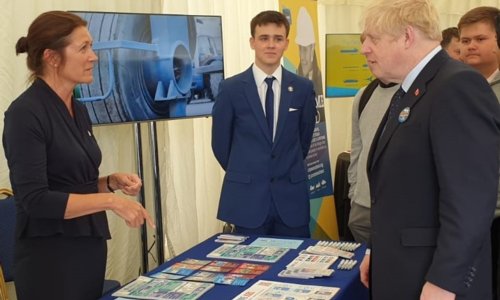 The Prime Minister told the TSA's Chief Executive, Katherine Riggs, how important he thought the River Thames was for transporting people and goods when they met at an event on board the NLV Pharos in September 2019.
Boris Johnson introduced the River Action Plan during his time as Mayor of London to encourage more passenger transport on the Thames which he referred to during his conversation with the TSA at the Maritime UK's Careers Hub event.
Mr Johnson also spoke with Katherine Riggs about the Vision for the Thames to ensure that the river is the busiest it's ever been and the importance of training skippers to transport people and freight to make this happen.
They also discussed the forthcoming new Boatmaster Apprenticeship standard which has been developed over the last 12 months by the TSA with employers up and down the Thames to train the skippers of the future.
The event was hosted by Maritime UK as part of London International Shipping Week.
The TSA's Katherine Riggs, said: "It was really encouraging to see the Prime Minister at this event which provides a great opportunity to showcase the breadth of careers available to young people in London.
"More and more young people are finding out what's available in the heart of London. Today many spoke to one of the TSA's apprentices, Wilson Rebello who works at City Cruises. Wilson spoke on BBC Breakfast this morning about transitioning from a career on the Cruise ships to working on the Thames," she added.
During the event primary and secondary school children heard first-hand from those working across Britain's £40 billion maritime sector, made up of the shipping, ports, professional services, engineering and leisure marine industries.
The Thames Skills Academy is a not for profit organisation which aims to raise standards and improve skills on the Thames and other inland waterways. The TSA works with employers to promote the sector, to attract talent into the sector and to develop and manage apprenticeships and other training to meet the sector's employers' needs.
Return to Previous Page