Rowing towards a career on the Thames
Published Date:
09/03/2020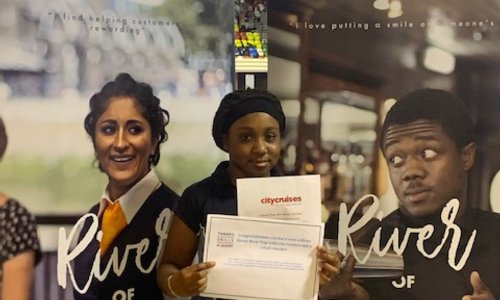 The TSA showcased the breadth of careers on the Thames at London Youth Rowing's National Junior Indoor Rowing Championships 2020 at the Olympic Park.
With an audience of 2,000 rowers, the TSA had lots of opportunity to talk to young people about the river of opportunities: apprenticeships and jobs on the Thames and how to find out more about them.
All of the young people visiting the TSA's stand had the chance to learn about the importance of safety on and near the water, with a steady stream of students challenging each other's times competing to "Beat The Clock" in trying on PPE correctly and quickly!
Congratulations to Layo from Ursuline School who won a rover river ticket courtesy of @citycruises & a retail voucher #TSA with an incredible time of 28.96 seconds!
We spoke at length to Councillor Kam Adams and Matt Rostron CEO London Youth Rowing about the attracting more local candidates to apply for careers on the River Thames.
Return to Previous Page