Newsletter November 2020
Published Date:
23/11/2020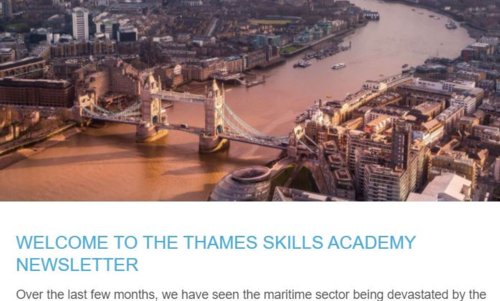 Welcome to the November newsletter
Over the last few months, we have seen the maritime sector being devastated by the impact of the Covid-19 pandemic. At the Thames Skills Academy, we are seeing the impact that this is having on apprentices, trainees, staff and employers and we are doing our best to support the industry until life is able to return to normal.

With this in mind, we have focused our second newsletter of 2020 around the measures that we, in conjunction with others in the sector, are taking to help those most affected.

These include free TSA membership for 2020/21 for all Thames employers; a webinar to support those people who are struggling at the moment; and an offer of a grant from the Worshipful Company of Shipwrights for small and medium sized maritime businesses to encourage them to put people on the TSA's flagship Boatmaster and Engineering Apprenticeships.

And looking ahead, we invite your views on the content of the Continuous Professional Development programme for the Thames. Please fill out the short questionnaire below by Friday, 13th November.
Not subscribed yet? Sign up today by filling out the form at the bottom of our homepage.
Find out more about our latest news
Return to Previous Page