January Newsletter - Apprenticeship special
Published Date:
05/02/2021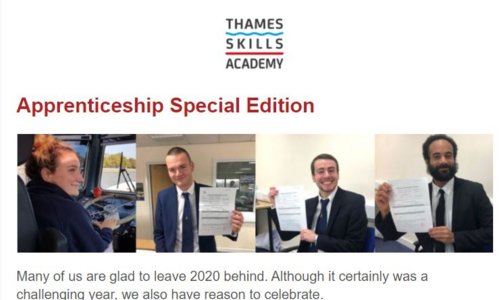 Many of us are glad to leave 2020 behind. Although it certainly was a challenging year, we also have reason to celebrate.

Congratulations to the 4 graduated Boatmasters
In 2017 the TSA introduced the apprenticeship scheme to support employers along the Thames to find and train their future Boatmasters. Together with PLA and SeaRegs we are incredibly proud of our 4 apprentices Scarlett, Joe, Ted and Jeremie who graduated in 2020.

Welcome to the 2021 new starters
SeaRegs Training and the TSA are excited to announce that Dan, Joe, Sam and Sime started their apprenticeship in January 2021 and South Essex College will welcome 7 apprentices to start the Maritime Engineer apprenticeship this Spring.
This is why we have dedicated this newsletter to apprenticeships on the Thames:
Remember: additional governmental funding is available until 31st March 2021
Congratulations to the "fantastic four"
National apprenticeship week
Apprenticeship types
How to join
Also happening this Spring:
Not subscribed yet? Sign up today by filling out the form at the bottom of our homepage.
Return to Previous Page