Employers being urged to consider apprentices
Published Date:
06/10/2020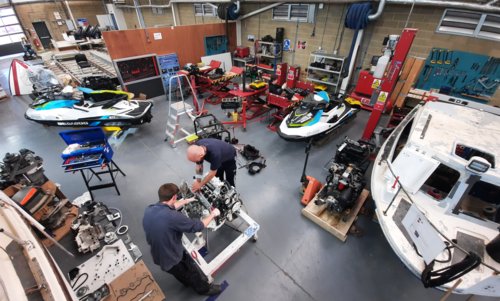 South Essex College is offering site visits to any maritime employers who might be interested in taking on an apprentice.
If you are an employer who might need an engineer to maintain your vessel then South Essex College could help you to train a young person for the industry and give them the opportunity to secure a lifelong career.
The Maritime Engineering Technician Apprenticeship Level 3, which was created with the Thames Skills Academy, allows students to study and learn while working. It's ideal for those who want to pursue a career as a maritime mechanical fitter, maritime electrical fitter or maritime fabricator.
The college is in a prime position to offer the course with Essex boasting 360 miles of coastline and 95 marinas, bringing the much needed training to apprentices' doorsteps.
Apprentices will be able to offer employers their dedication, drive and a willingness to learn.
The college offers a professional service ensuring you are paired with an enthusiastic student who wants to progress into the industry.
Simon Lofting, Lecturer Assessor – Marine Engineering and Construction, said: "As head of department I was delighted to come aboard and build a Marine Engineering Apprenticeship for South Essex College and the Thames Skills Academy. Until now employers have been sending apprentices to Southampton, Hull or the Isle of Wight for a marine engineering course.
"Now we have successfully established a Marine workshop and apprenticeship provision based in Essex close to the M25 that can provide a realistic and resource-rich environment to allow apprentices to have a hands on approach to marine engineering, whether for the pleasure or commercial sector."
He added: "This collaborative approach with the Thames Skills Academy has enabled us to start bridging the skills gap in industry. We can provide the training and education whilst industry provides the practical experience. I embrace the opportunity of building the Marine engineers of the future and continuing to working collaboratively with Thames Skills Academy."
The Thames Skills Academy's CEO, Katherine Riggs, said: "I'd encourage all employers to consider a Marine Engineering Apprenticeship at South Essex College. The apprenticeship was established through collaboration between the TSA and South Essex College, in response to employers' requests to bridge the engineering skills gap on the Thames.
"We are grateful to the many Thames employers who have provided the wide breadth of marine engines for the apprentices to learn on and to the Worshipful Company of Shipwrights who are providing funds for some employers to take on apprentices onto this apprenticeship," added Dr Riggs,
For more information about the apprenticeship, please visit https://www.southessex.ac.uk/course/maritime-engineering-technician-apprenticeship-level-3
Employers interested in hiring an apprentice in this field should email simon.lofting@southessex.ac.uk
Return to Previous Page