#CareersOnTheThames 2021
Published Date:
06/12/2020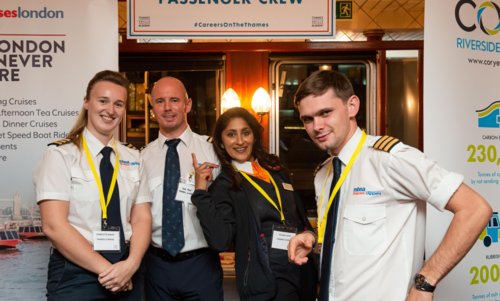 TSA organised the first #CareersOnTheThames event in 2018 to showcase the amazing breadth of careers available along the 95-mile stretch of the River Thames. Since then, the floating career fair has become a hugely popular fixture of the annual Totally Thames Festival in September each year.
Sadly the event had to be cancelled in 2020 due to COVID-19 but TSA is looking into hosting the event again in September 2021.
Please register you interest here and we'll keep you updated.

In the meantime, here are some FAQ:
What is the #CareersOnTheThames event?
This event is for careers advisers, teachers, youth leaders and anyone who spends time on the water and may be contemplating a varied and exciting career on the river that runs through the heart of London.
Where and when does it take place?
The event is part of the Totally Thames Festival and usually takes place onboard one of London's iconic river boats. This floating career fair usually disembarks at 5 PM and returns around 7:30 PM. During the trip attendees get to see the major infrastructure work and developments taking place down the ever-changing Thames.
How to meet the right people?
During the event there is usually the opportunity for informal talks to some of the people who work on the Thames including engineers, skippers, deck hands, baristas, cabin crew, hydrographers and many more. Refreshments are usually served at these careers events and you get the chance to visit the on board careers fair which provides the opportunity to chat with employers, learn about the different job vacancies and maybe even try your hand at new maritime skills.
What's new in 2021?
TSA plans a series of short talks from river operators, both passenger and freight, current apprentices and employees working on the river. A great opportunity to get a feeling for the industry and ask questions to those who have already established their Career on the Thames and talk with current apprentices about the course programme.
If you would like to attend please register your interest here and save the date in your calendar. Thames Skills Academy will contact you with further details nearer the time.
Return to Previous Page