National Apprenticeship Week Event - Navigating a Career on the river Thames
Published Date:
07/03/2017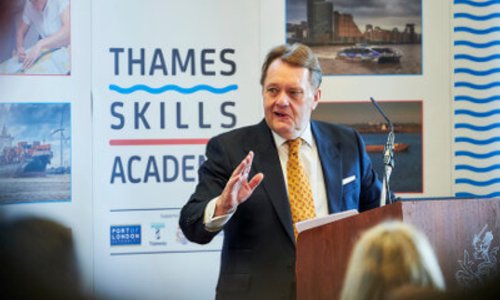 Shipping Minister John Hayes CBE MP, marked National Apprenticeship Week by joining the Thames Skills Academy's (TSA) first event of the year 'Navigating a Career on the River Thames' day at Trinity House today (Tuesday, 7 March 2017).
The event attracted over 100 local young people who learnt about maritime job opportunities and met a range of marine employers currently offering apprenticeships working afloat in passenger and freight services in the Port of London.
Maritime Minister John Hayes said: "Britain is a leading player in the global maritime sector; now to maintain our strong position we need to attract a new generation of young people into the workforce.
"Apprenticeships chart a course to success, a time honoured means to achievement that our industry continues to offer. The wide range of trainee roles on our rivers provide exciting opportunities for the future.
"I am delighted that this event will bring together employers, training providers and those looking to enter careers on the Tideway. This Government is committed to driving up the number of apprenticeships, which in turn will deliver a highly-skilled, diverse and flexible workforce across the UK."
Established less than a year ago, the TSA already has 16 employer members, who between them employ some 70% of those working afloat on the tidal Thames.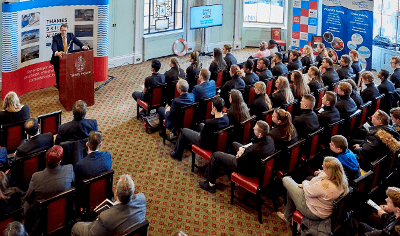 TSA chief executive, Julian Parkes said:
"This event was an excellent opportunity to promote a sometimes forgotten sector of employment. We took the opportunity to re-focus students' attention in the UK's ports and inland waterways, highlighting the career opportunities on the tidal Thames."
The TSA was launched in 2016 as a Group Training Association - a learning and skills partnership where employers subscribe to sector-specific, on and off-the-job, training in order to provide efficient, expertly-delivered skills that meet shared needs across an industry or sector.
The TSA has been established by a group of four Founding Members - The Port of London Authority, Tideway, Transport for London and the Company of Watermen and Lightermen. The organisations have a direct and long-term interest in maintaining safety on the tidal Thames; working together to raise the standard of skills and the competency of individuals working commercially on the inland waterways and port operations in the Port of London.
Return to Previous Page